Table of Contents
In 2016, we lived in 12 states: California, Arizona, New Mexico, Colorado, Kansas, Missouri, Kentucky, Indiana, Tennessee, North Carolina, Georgia and Florida.

This is where we found the best gluten free biscuits, cake pops, cookies, donuts, key lime pies, samosas, tacos, and waffles, plus a few of our favorite gluten free recipes with numerous vegan friendly options in the mix! 🙂
Across the course of the past few years, Beth and I have adopted numerous healthy eating habits and/or diets in search of optimal health and wellness while trying not to sacrifice one of our favorite pursuits: eating amazing food. We eat fresh and organic whenever possible, almost never eat fast food, and avoid gluten and a few other foods that tend to encourage inflammation.
After some good early success with Tim Ferris' Slow Carb Diet, we were inspired by our good friends and human incarnations of the fountain of youth, Mark and Courtney Wolfgang, to give the Paleo diet a go.
I think we were both more than a little surprised at how much better we felt after we started eating paleo (plus a few variations, including Whole30, the Primal Diet and the Bulletproof Diet)), and couldn't ignore some of the more obvious exclusions as potential sources of ailments we didn't even realize we had until they were gone.

Why a gluten free diet?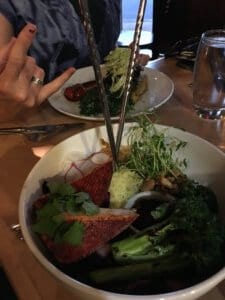 Although neither of us have yet been tested for celiac disease, I think it's safe to say that cutting gluten out of our diets almost immediately made us both feel better, and as we slowly relaxed our implementation of the paleo diet, one of the only things that remained consistent was the gluten free diet.
Suffice it to say that eating out with any dietary restriction is a challenge, and as anyone with a gluten allergy (or any food allergy) knows, it can be scary taking a chance at restaurants that don't have a track record of success and a lot of favorable reviews.
Since we've had the privilege of living in some of the most amazing places in 12 different states during 2016, we thought we'd put together a list of what we consider to be the best gluten free foods we've had this year from restaurants, cafes, health food stores and even the patios and recipe books of our nomadic friends' and family.
The following are our personal favorite gluten free foods of 2016, in no particular order.
Best Gluten Free Tacos:

Limited Veg and Vegan Options
Taylor says:
We love tacos. In our travels, we've had amazing tacos from street carts in Algodones, Mexico to vegan food trucks in Austin, Texas and oceanside restaurants on the California coast, so it would be hard to pick just one place whose tacos prevail over all others.
However, if we had to pick a favorite spot, we choose Taco Asylum for their consistently delicious tacos, a kitchen and wait staff who know or are always willing to find out which of their rotating menu items are gluten free, and kick-ass homemade hot sauces so good we've given them as gifts.
Beth adds:
Because they don't have a dedicated fryer, I avoid the chips and nachos, but the tacos here are full of win.
Don't miss the Bahn Mi,  Fire Pig and Jamaican Jerk tacos, as they are what makes Taco Asylum my favorite gluten free Mexican restaurant option in Orange county.
Taco Asylum
2937 S Bristol Street, Costa Mesa, CA 92626
http://tacoasylum.com
(714) 922-6010

Best Gluten Free Chicken & Waffles:
Dedicated Gluten Free Facility, Many Vegan Options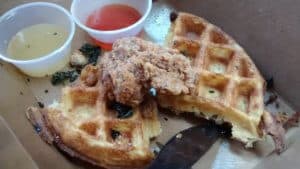 Taylor says:
Being born and raised in and around Atlanta, Georgia, I'm a pretty big fan of southern food, and although Beth is originally from New York, I've managed to introduce her to some delicious soul food that has certainly made her a fan.
One of the things that Beth and I both enjoyed before going gluten-free and paleo was chicken and waffles, a true southern delicacy that isn't often found on gluten free menus. Fortunately, we've managed to come across a couple of pretty spectacular specimens, and although it was a pretty close race, we think the Chicken & Waffles with honey sriracha and buttermilk syrup from Jewel's Bakery & Cafe near Phoenix, Arizona, gets the prize.
We'd be remiss not to mention the runner up, however, as King Daddy's Chicken & Waffle in Asheville, NC, really makes an excellent showing with their expertly fried chicken that's so delicious it's hard to believe it's gluten free on top of hearty, gluten free waffle. They even have a vegan waffle!
Beth adds:
The honey Sriracha and buttermilk syrup elevate Jewel's gluten free fried chicken and waffles from simple comfort food to mind-blowing gourmet fare that you should go out of your way to get in your mouth.
This is the place to go if you are looking for a good gluten free restaurant between Phoenix and Scottsdale, Arizona.
Jewel's Bakery & Cafe
4041 E Thomas Rd, Phoenix, AZ 85018
http://jewelsbakeryandcafe.com
(602) 714-5243

Best Gluten Free Fish and Chips: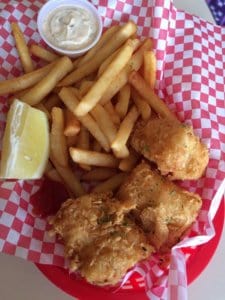 Taylor says:
Sometimes I have a craving that only fish and chips will satisfy. Crispy, golden brown pollock or cod fried to perfection atop a bed of french fries, salty and crunchy on the outside and just a little bit soft, tender and delicious inside.
Like chicken and waffles and chicken fried steak, a good gluten free fish and chips is pretty difficult to find. While visiting Yellowstone National Park, we learned that the girlfriend of the proprietor of the Smokejumper Cafe has celiac disease, so the owner and executive chef made a concerted effort to ensure that most of the items on the menu, breaded, fried and all, are safe for those with a wheat allergy.
Though we sampled a few other items on the menu, it was indeed the hand-dipped, gluten-free beer-battered and perfectly fried fish and chips that won us over. Although we didn't make it back to West Yellowstone in 2016, we didn't find another fish and chips to take the crown this year, so we'll cheat and keep them on the list from last year.
Beth adds:
This unassuming one-man operation in the airport is a stealth winner. After all the expensive, less-than-mediocre tourist traps around Yellowstone, I was wary of this seasonal airport restaurant.
Luckily, it turns out that looks can be deceiving. Everything here is great, but the fish and chips are the best and the owner and chef is super awesome. I also loved the onion rings and milkshakes. They specialize in breakfast, burgers, steaks and lobster bisque and with a dedicated fryer, toaster & waffle iron, almost everything can be made celiac-friendly & gluten free.
If you are flying out of this little airport in West Yellowstone, this is a great reason to get to the airport early.  Allow time, everything is made fresh to order and definitely call ahead for groups of 5 or more, or just keep this place between you and your bestie.
Smokejumper Cafe
721 Yellowstone Airport Rd, West Yellowstone, MT 59758
https://www.facebook.com/Smokejumper-Cafe-136696299693134/
(406) 646-9060
Best Gluten Free Chicken Fried Steak:
Dedicated Gluten Free Facility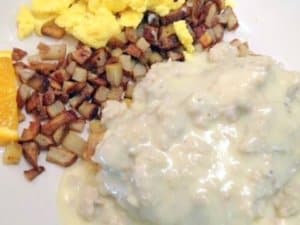 Taylor says:
Chicken fried steak is an odd dish. To call it "steak" is a bit  disingenuous, as it more closely resembles a battered and fried hamburger, given its ground and reformed "steak" middle. That said, I find chicken fried steak to be virtually irresistible, and since going gluten free, I've found it in very few places where I could again enjoy it in its decadent glory.
The preparation that stands out most is that of Gourmet Girls' Gluten Free Bakery and Bistro in Tucson, Arizona. I'm not sure how they make their gravy taste so amazing without flour, but whatever their secret, it's worth a special visit just for the "steak."
Beth adds:
I am not a chicken fried steak person, but I never turn down a bite of this when Taylor offers to share. Gourmet Girls has some other great gluten free treats including their gluten free rosemary bread and their gluten free peanut butter chocolate chip cookies. (protip; skip the gluten free cupcakes if you are over 10 years old).
Gourmet Girls Gluten Free Bakery/Bistro
5845 N Oracle Rd, Tucson, AZ 85704
http://gourmetgirlsglutenfree.com
(520) 408-9000
Best Options for Gluten Free Vegans:
Plant in Asheville, NC
Dedicated Vegan
&
Dedicated Vegan, Super Celiac Friendly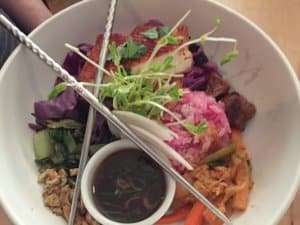 Taylor says:
Looking for a place to take your gluten free vegan friends? Or just a nice place where your vegan and paleo friends don't have to battle?
We couldn't choose just one place to get this title, as our two picks are so frickin' amazing, neither of them deserves second place for anything. First up is the incomparable Plant in Asheville, North Carolina, where Chef Jason Sellers' "scratch-made food uses only carefully chosen ingredients that come from the earth."
On our most recent visit, I had the vegan and gluten free Bibimbap (one of my favorite Korean dishes), comprised of Korean-style chili tofu with grilled broccoli & togarashi, kimchi, purple cabbage, pickled shiitakes and chilled sesame sushi rice with sesame-scallion sauce, toasted cashews and pea shoots.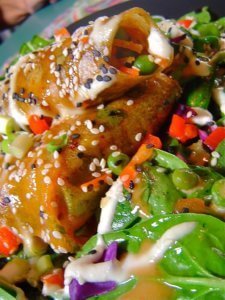 Next is Present Moment Cafe, in St. Augustine, Florida, with a unique and incredible menu of raw, vegan, organic, gluten-free creations by Chef Yvette Schindler.
Our favorites from their entirely-awesome menu are the Mango Samosa (curried vegetables folded into a mango coconut wrapper), and the Alive Blueberry Crepes (banana/pecan crepes, topped with blueberries and vanilla cream) from their "Breakfast All Day" menu.
Beth adds:
The first time we ate at Present Moment Cafe, we were so inspired, we wound up coming back the next morning for breakfast and then back again the next day for dinner. We even made a special trip into St. Augustine solely to eat there again two years later. I have dreamt about the blueberry crepes and samosas here. So Freaking Good.
Plant
165 Merrimon Avenue, Asheville, NC 28801
http://plantisfood.com/
828-258-7500

The Present Moment Cafe
224 West King Street, St. Augustine, FL 32089
http://www.presentmomentcafe.com/
904-827-4499

Best Gluten Free Cake Pops:
Dedicated Gluten Free Facility, Vegan Options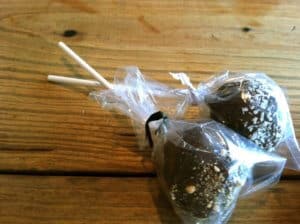 Taylor says:
Although I've never been a huge cake lover, I've come across a few cakes I've really enjoyed, though most of our attempts to find delicious gluten free cake have been met with disappointment, and, often, cottonmouth.
Until just a few years ago, we were also unaware of the phenomenon that is "cake pops" and only after a bit of research did we learn that baking a little frosting in with the cake is how you keep a cake pop moist and delicious.
We've tried a few specimen of gluten free cake pops, and like gluten free cake, most of them have failed to impress, the exception being those of Gluten Free Cutie in Roswell, Georgia.
Moist and delicious, if a wee bit sweet for my taste, their cake pops are awesome, if a bit out of the way when we're staying near Atlanta. Still, the cinnamon roll and chocolate chip cookie dough cake pops are worth the drive.
Beth adds;
Three reasons to go:
Cinnamon White Chocolate Gluten Free Cake Pop

Cookie Dough Gluten Free Cake Pop (Vegan)

Chocolate Sun Butter Gluten Free Cake Pop (Vegan)
Gluten Free Cutie
1066 Alpharetta St, Roswell, GA 30075
http://glutenfreecutie.com
(770) 518-7858
Best Gluten Free Key Lime Pie: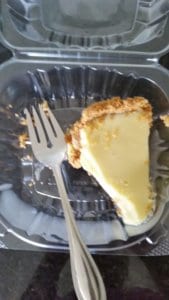 Taylor says:
This is a tough one, because I grow up eating my granny's key lime pies, which I firmly believe to be the best key lime pies ever made.
Therefore, trying to find a gluten free pie that's even in the same league is a bit of a ridiculous expectation to begin with, though I'm pleased to say I've been lucky enough to find not just one, but two, excellent gluten free lime pies.
Our #1 favorite is the home-made creation of Amanda at WatsonsWander. Sadly, predicting when and where to find Tim and Amanda, hoping that Amanda has already baked a pie and then waiting patiently until they invite you over to enjoy it with them might require a measurable wait, so you'll probably have better luck with our second favorite, available from Sweet Savannah's in Marathon, Florida right in the heart of the Florida Keys, where we've had the privilege of spending a big portion of this winter season.
Beth adds:
Amanda's pie, much like Taylor's granny's, will spoil you for all other key lime pies with its awesomeness. A safer bet is to pop into Sweet Savannah's in the Florida Keys and grab a slice or even better- a whole gluten free key lime pie. Hint; it makes a great breakfast too!
Their version of the Florida Keys classic is a traditional custard-style pie with a brown sugary and buttery graham crust.  The pie is pleasantly sweet and tart and egg-y. They have a a few shelves in the top of the refrigerated case (on the left when you walk in) where they store their gluten free baked goods, including key lime pie, brownies and cupcakes. Make sure you check the labels for "GF"! The gluten free brownies are really nice too, not too fudgy, not too cakey and full of chocolate chips.
Sweet Savannah's of the Florida Keys
8919 Overseas Hwy, Marathon, FL 33050
http://sweetsavannahs.com
(305) 743-3131
Best Gluten Free Pizza:
Dedicated Gluten Free Facility, Vegan Options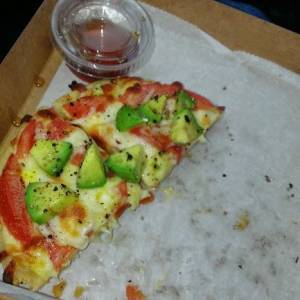 Beth says:
Look, I am from New York, the home of the best pizza crusts outside of Italy, (don't bother arguing with me, because I will cut you) and I have to say that finding delicious gluten free pizza crust is really difficult.
If you are celiac, the cross contamination in pizza places is super hard to avoid since every surface has been covered with flour and it's in the air.  Well, get ready to step outside of the pizza box and open your mind to the Garden Girl at The Bald Strawberry.
This pizza starts with a gluten free waffle, (what?!)  but that is just the beginning of things you didn't know could be amazing as a pizza! Topped with tomato, avocado, cheese, an organic egg, and a tiny hint of maple syrup,  this perfect balance of flavors and textures will change your life and blow your mind.
Trust me, this did NOT sound good to me before I tried it, but it is now in my list of favorite things I have ever eaten – even the gluten-FULL things and is in the regular rotation of foods I dream about when I am away from them. They also have gluten free and vegan cakes for sale.
Taylor adds:
It's hard to express how delighted we were to find this tiny slice of gluten free heaven when we first got to Florida's Space Coast. Their waffle pizzas are simply divine, and their waffle sandwiches equally affective. I dream of that Garden Girl pizza, and once you've tried one, you'll understand why.
Protip: Grab some their gluten free flour mix to take with you so you can make their delicious gluten free waffles (and sandwiches and pizzas) at home!
The Bald Strawberry
1280 Sarno Rd, Melbourne, FL 32935
http://thebaldstrawberry.com
(321) 751-2803
Best Gluten Free Chocolate Chip Cookie:
Dedicated Gluten Free Facility, Vegan Options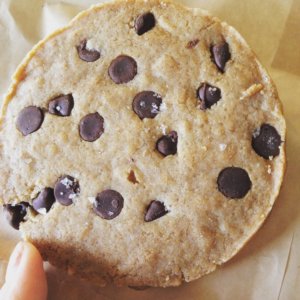 Beth says:
First of all, the best gluten free cookies are made at home with this gluten free recipe using real vanilla bean instead of vanilla extract.
Before we found that recipe, we found Tula Bakery Cafe in Portland, OR, and they happen to make the most amazing chocolate chip cookie we have come across in our travels.
The texture is weird, I don't know how they make it, but it's a little bit like raw cookie dough with a crusty outside and it has big pieces of salt on top. It's delicious and you will quickly find yourself thinking of reasons to go back to this gorgeous, delicious all gluten-free cafe for more. Maybe for their little savory hand pies…
Taylor adds:
Buy twice as many as you think you'll want. Also, Beth's right about that recipe — it produces *amazing* cookies that are naturally gluten free (and AIP if you've reintroduced eggs), and can be easily modified to be made vegan by substituting agar-agar or flax for the eggs.
Tula Gluten Free Bakery Cafe
4943 NE Martin Luther King Jr Blvd #101, Portland, OR 97211
http://tulabaking.com
(503) 764-9727
Best Gluten Free Biscuits:
Dedicated Gluten Free Facility, Vegan Options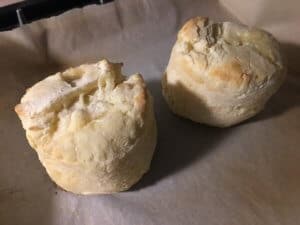 Beth says:
Gluten free biscuits are usually a long shot, so I tend to avoid them, but a few places do pull them off. Of those, Benefit Your Life Bakery  in Knoxville, TN tops our list because they are delicious, but also because they sell their buttermilk biscuit dough frozen in their market.
This means you can stop by BYL for Saturday morning breakfast biscuits (pimento cheese and bacon, anyone?) AND you can pick up their frozen biscuit dough while you are there so you can make your own amazing hot, fluffy biscuits anytime you want. That's what I call win/win!
Biscuits are super-versatile; add butter honey and apples for an amazing dessert, top with cheese for a filling snack, or throw chili, stew or lentils on them for dinner. You could probably use them to make a pot pie, (or some other kind of pie) but we ate all of ours before I could try it.  
If you are in doubt, know that we dedicated significant RV freezer real estate to these frozen gems, with zero regrets. These biscuits aren't vegan, sadly, but Benefit Your Life Bakery does have a wide selection of delicious vegan items and is a dedicated gluten free facility that has many dairy-free and other allergy-free options.
Taylor adds:
These biscuits were so good, I've literally been craving them ever since we ran out… four months ago. I've been searching for a good second best, but haven't found a contender yet.
Have a recommendation for a good gluten free biscuit? Let me know in the comments below!
Benefit Your Life Gluten Free Market and Bakery
620 N Campbell Station Rd #24, Knoxville, TN 37934
http://benefityourlife.com
(865) 288-3193
Best Gluten Free Donuts:
Dedicated Gluten Free Facility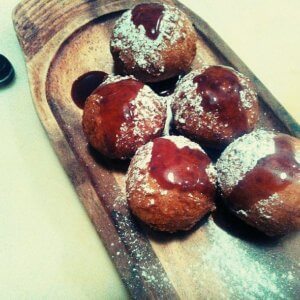 Taylor says:
This is a tough one, because the best gluten free donuts we'd found were the gluten free donuts from the brunch menu at Capitol Cider. Unfortunately, they don't seem to be on the menu anymore.
However, given that really good gluten free donuts are so hard to find (and despite plenty of mediocre attempts), we went ahead and included Capitol Cider anyway, because we hope and believe that if you let them know you liked their donuts as much as we did, they'll bring them back.
Still, because everything at this dedicated peanut and gluten free kitchen is super delicious, it's safe to say that any of their brunch alternatives, like the buttermilk cinnamon rolls they're currently featuring, are bound to be tasty.
Rumor has it they also brew cider here.
Beth adds:
I loved these and really hope they come back!
Capitol Cider
818 East Pike Street, Seattle, Washington 98122
http://capitolcider.com/
206-397-3564

Bonus: Super Awesome Gluten Free Recipes!
Ok, so maybe you prefer to cook gluten free at home?
While we've collected dozens of gluten free recipes that we believe to be pretty awesome, there are a few that are so amazing that even our gluten-eating friends love them. In particular, PrimalGirl's Magical Multipurpose Wonder Dough is one of those recipes.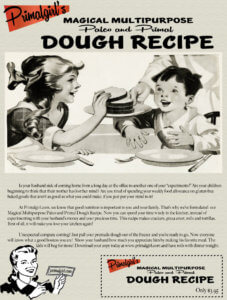 Though it is comprised of only a handful of ingredients, this incredible recipe is equally useful for making hard and soft breads, including rolls, crackers, taco shells and tortillas, pizza crusts and more. 
We've only made rolls with the recipe so far, but they were awesome, so  I'll be whipping up a new batch very soon to make tortillas for an upcoming taco night!
I just found this recipe, but am super excited about it, as it's a raw, vegan, dairy-free, nut-free, concoction that "tastes like a tangy, sweet banana and vanilla yoghurt."
Add a touch of coconut milk and blend for a banana lassi! Everybody wins!
This one is a recommendation from Amanda at WatsonsWander. Full disclosure: we haven't tried it yet, but everything Amanda's fixed for us has been awesome, so when she suggests a recipe, we listen. We'll update this post once we've had an opportunity to give this suggestion a try.
So, hopefully one of these amazing, delicious, gluten free comfort foods is near you or in the path of your travels in 2017.
You can also download our list or checkout our map.
Do you have a gluten free favorite in your neck of the woods, or do you disagree with one of our picks? We'd love for you to tell us about it in the comments! We have been known to go out of our way for kick ass gluten free deliciousness on occasion. 😉