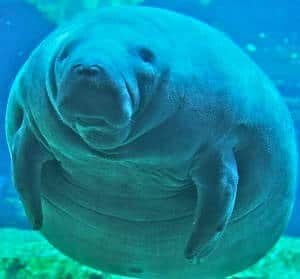 One of my favorite RV parks we've stayed in has been Manatee Hammock Campground. It's a Brevard County park on Florida's Space Coast and it has a lot going for it. You may even catch a glimpse of an amazing sea mammal like our round friend here on the left.
The Lowdown:  Manatee Hammock 

Full Hookups
Shaded Level Sites
Good Wifi
Clean Bath Houses
Laundry
Pets Allowed
Pool
Natural Setting
With room for big rigs as well as tent campers,  Manatee Hammock is a popular destination, so call ahead to reserve.   Pets are allowed, but be warned; I have seen people with off-leash pets that are not well trained there (thankfully that is the exception and not the rule.)  I don't know what the mosquitos are like in the summer, but we didn't have any problems in the cooler months. Oh, and they have wifi you can actually use! Very refreshing.
Wildlife, Water, and Rockets, Oh My!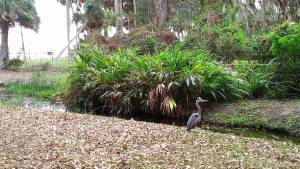 The park is pretty, wooded and offers ample opportunities for enjoying the sunset from a bench or kayak.  It backs up to the Indian River Lagoon where you can walk out on the pier and fish or watch for dolphins. While you are there, you can listen to mullets jumping out of the water (the fish, not the unfortunate hairstyle from the 80's) and see the occasional rocket launch from Kennedy Space Center, which is located directly across the water.  It's a beautiful spot and full of wildlife including a giant blue heron with one foot named Harry. If the water temperatures are right, you can see manatees, usually in the late spring and early fall, and there are lots of birds and squirrels that call the park home.
 Nearby Nature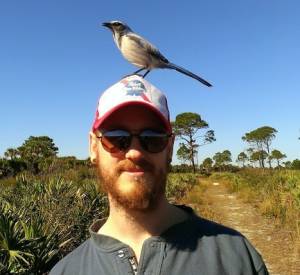 Titusville is a fairly depressed area since the defunding of NASA, but we had no trouble finding farmers markets as well as great places to hike and view wildlife all around us. The latter include Canaveral National Seashore and Merritt Island National Wildlife Refuge, to name just a few.  Some of our favorite hikes in the area are Oak Hammock, Scrub Trail Loop, and the Enchanted Forest, but there are so many great places we never even made it to! You really can't go wrong with a visit to any of them.
Our Space Coast Food Favorites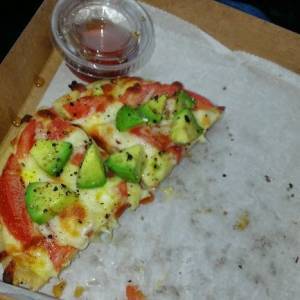 If you stay here, it's best to have a car to get around. Although you can walk or bike to a grocery, nearby towns like Melbourne and Cocoa Beach offer the restaurants, health food stores,  shopping and nightlife that Titusville is missing.  Some of our favorite places to eat are The Bald Strawberry in Melbourne  (that's their delicious Garden Girl Pizza pictured left), Tiny Turtle,  Green Room Cafe, and for dessert, The Fat Donkey in Cocoa Beach. All are gluten-free friendly and delicious. (Reviews coming soon!) Our favorite place to shop outside of the farmer's markets is Sunseed Food Co-op.
Beaches are for Yoga (but not always for dogs)
We also loved going to the beach! (Especially to do beachside yoga with Courtney!) People watching and surfing are the best at Cocoa Beach, Port Canaveral area is good for seafood restaurants and flat, in-town bike riding, and Canaveral National Seashore area beaches are very chill and not usually too crowded in the winter. Keep in mind, dogs are not normally allowed on beaches in Brevard County, although there is now one dog park at Lori Wilson Beach Park near Cocoa Beach. All are a short drive from Titusville and definitely worth the trip.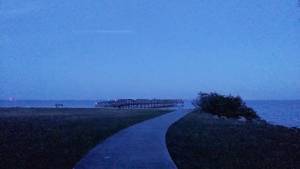 Manatee Hammock Campground gets 4 stars from me. If you are looking for an RV park on Florida's SpaceCoast that is clean, quiet, close to Kennedy Space Center, and offers plenty of wildlife viewing, Manatee Hammock is it!
 Happy Trails!