In This Guide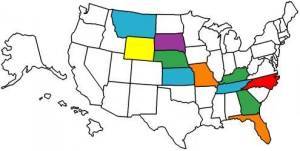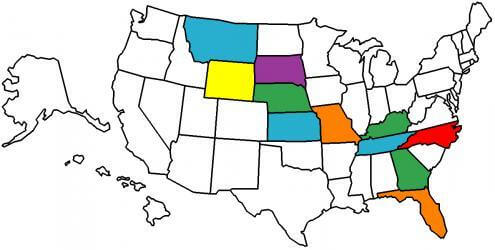 If you're planning a cross country road trip, you probably know just how much time and effort it takes to figure out where to go, how to get there, where to stay, what to do, and how much money you need to budget for gas, food, lodging (or camp sites), adventures and activities.
After only 8 months on the road, Beth and I have already learned a lot about road travel and trip planning, and we want to share some of the most valuable tips and tricks we've picked up along the way. Hopefully this guide will help answer some of your "How Do I?" questions about trip planning and road tripping!
Bonus Mind Map
Download this mind map to learn how to use the free tools, resources and apps from this post to plan and organize your cross country road trip like a pro!
Introduction
Before selling our house to travel full-time in an RV, I'd only ever taken short road trips with no more than one or two destinations. On a single destination road trip, you don't have to spend much time mapping, routing or road trip planning as there are likely only a few ways to get to where you're going: the fastest way, the shortest way or the cheapest way (and often, two of these are the same).
When you're doing a cross country road trip across the U.S.A. in a motorhome or RV, however, it seems there are an almost infinite number of ways to get to where you're going (if you even know where you're going). As Beth and I have discovered, it can be much trickier to figure out all the awesome places to stop during a cross country road trip if you don't already know where to look for ideas.
When Beth and I left Florida in March, we knew we wanted to "head west," but that was almost as much as we knew. We had a few destinations in mind (New England, Yellowstone, Grand Tetons, Yosemite), but we weren't real sure how we'd get there, or where else we might like to stop (or stay) along the way.
If you read my other recent road tripper post, "How (not) to Plan a Road Trip" you'll know that we've changed our course several times along the way due to time, distance, weather and cost. Each time we changed our plans, we learned how to plan better for these eventualities.
As we began to plan our route, I searched the internet high and low looking for the best travel guides, trip planning apps, route planning sites and anything else that might help us in planning our own cross country road trip. Unfortunately, there were no perfect route planners that seemed to fit all of our needs, so I've had to create my own process to figure out where to go, how to get there, where to stay, and how to avoid inclement weather along the way.
The result is a series of "how to articles" for routing, traveling and camping on a cross country road trip across America, (though several tips might also prove useful to travelers in other countries).
In Part 1, I'll show you how to begin road trip planning by deciding where to go, and I'll focus on the most useful tools that have helped us while planning our "permanent" road trip.
Route Planning Part 1: Where to Go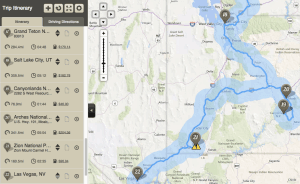 The first, and arguably the most important step in planning your cross country road trip, is determining where you want to go. For us, the journey began with a few grand ideas, we asked for suggestions from our friends, and have discovered tons of other awesome and interesting places to visit along the way.
Tools for Planning Your Route
There were several tools that made planning our journey easier, the most notable among them being Trello, Evernote, Instagram, Chimani National Parks, and Google Maps.
Here's how to use each of these free tools to create the ultimate cross country road trip!
Step 1: Use Trello to create a "Places To See" List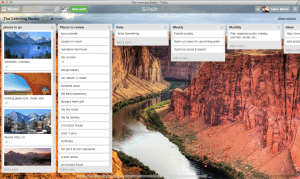 Trello has recently become such an integral part of our day-to-day lives, that it likely deserves an entire post of its own when I get around to writing one up. We started using it to manage and replace all of our lists from other apps (to do lists, grocery lists, blog post ideas), and it has quickly become our de-facto "life project management" tool.
We started out with a Trello board dedicated to our travels and created lists for various scenic places and aspects of our trip. At a minimum, I would suggest starting simply by creating a "Places To See" list, though here are a few other suggestions from The Learning Banks' own Trello board:
Places To Go
Places To See
Things To Do
Places To Eat
Friends in Other Places
Although Trello does allow uploading documents and images, it hasn't completely supplanted my other favorite trip planning tool, Evernote, which we use to store all of the random bits related to our trip.
Signup for Trello here.
Get Trello for iPhone and iPad.
Get Trello for Android.
Step 2: Use Evernote to Store Maps, Routes and Other Tidbits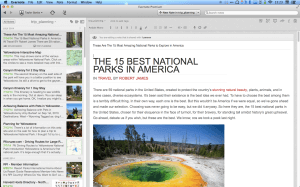 I've been using Evernote as my "second brain" for some time now. I use it to store notes, receipts, business cards, recipes, travel plans, maps and itineraries, technical references and any other miscellanea I want to store and be able to search later.
One of Evernote's greatest features is it's ability to share notebooks with other collaborators. Having used Evernote for business trip and holiday planning in the past, Beth and I created a new notebook for sharing detailed information about routes we plan to take and destinations we plan to visit. We use it to store PDF travel guides, restaurant menus, and even photographs of maps and street signs (Evernote automatically OCR's all photographs and images to make all the text searchable).
Evernote Bonus
This post is the first in our brand new series, "How To Plan A Cross Country Road Trip." In my next article, I'll show you how I'm also using Evernote to capture other people's detailed travel routes to avoid having to do tons of research that other smart world travelers and travel experts have already done!
For now, I suggest creating an Evernote notebook called "Travel" or "Road Trip" and sharing it with your travel companions so that anyone and everyone can throw ideas, notes, documents, maps and other miscellanea somewhere that's easily accessible, easily searched, and backed up online but also available offline (and make sure to mark the notebook for "Offline Sync" on your mobile device so that you can see your notes when you don't have a cell signal or wifi connection).
Signup for Evernote here.
Get Evernote for iPhone and iPad.
Get Evernote for Android.
Step 3: Use Instagram and Panoramio to Find Destinations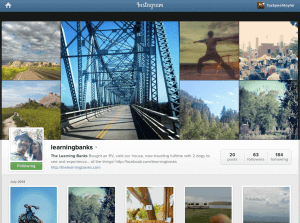 When Beth and I created The Learning Banks blog, we wanted to create a platform to share the places we visit, the experiences we have and the lessons we learn as we go. We quickly realized that social media allowed us to not only expand on that concept, but found that specific social networks were perfectly suited for sharing aspects of our journey.
In adopting Instagram to share photos with our friends, family and followers, we also discovered hundreds of other travelers and wanderers sharing their journeys on Instagram as well. By finding and following the hashtags that kept popping up in our feed the most, we've got a pretty steady stream of new spots to add to our Trello "Places To See" list.
First install Instagram on your iPhone, iPad or Android device, then try search for a few of the following hashtags inside the Instagram app to see if you can't find ideas for some amazing places to visit.
If you'd like to view these hashtags in your browser, you can use websta.me, a third-party site for searching instagram:
Another excellent source of destination inspiration is Panoramio, Google's geolocation-oriented photo sharing website used to post photos into Google Earth and Google Maps. You can browse panoramio.com and search for destinations, or you can choose to simply "explore" from the homepage and let Google show you beautiful photos taken by users around the world.
And of course, once you start your own cross country road trip, make sure to share your photos on Instagram and upload them to Panoramio so that you can inspire and encourage others!
Signup for Instagram on iPhone.
Get Padgram Pro for iPad.
Signup for Instagram on Android.
Step 4: Use Chimani National Parks Apps to Find Inspiration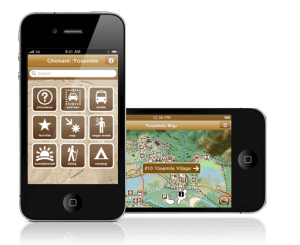 Another useful app that's helped inspire us is the National Parks app by Chimani. Frankly, until we visited Badlands National Park in South Dakota, I didn't realize how much I'd really want to visit all of our nation's National Parks (plus as many of the 401 National Park Service units as we can realistically see during our travels). Having had that realization, the Chimani National Parks app provides a wealth of useful information and maps to all of our National Parks, Monuments, Historical Sites and more. Being able to quickly and easily see notes and beautiful photographs of each National Park makes it much easier to plan which parks we want to visit and when.
Get Chimani for iPhone and iPad.
Get Chimani for Android.
Step 5: Use Google Maps to Plot Your Basic Route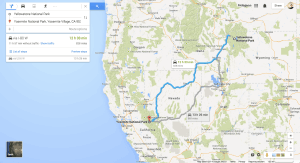 When I first started planning road trips, I used Google Maps exclusively. While Google Maps has become the quintessential mapping and GPS tool for smartphone users, it still lacks many of the features necessary to make it a good all-around cross country trip routing app. Still, when evaluating how to get from where you are to where you plan to be next, Google Maps will likely prove to be quite valuable.
To get started, head on over to http://maps.google.com and enter your destination into the search box. Your destination might be a specific place or campground, or it might be a larger and more general area like a city or national park. Once google finds your location and re-centers the map, it should display a bit more information about the place you're searching for.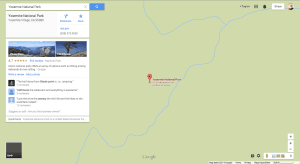 From the box at the upper left side of the map, you can now get directions, add this location to your "saved places" and, depending on the type of location you searched for, you may see links to a website, phone numbers, photos and photo tours and possibly reviews.
When route planning, you can simply hit the "directions" link and enter your starting point to display one or more suggested routes. Using Yellowstone to Yosemite as an example, I'm presented with two routes, the fastest being 828 miles via I–80 W in 11h 57min without traffic; the second option is 869 miles via US–6 W and takes 12h 47min without traffic.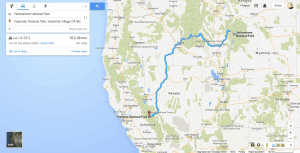 With Google Maps, you can also click and drag the route directly on the map to modify it and add waypoints. For example, If I decide that I want to detour through the Boise National Forest, I can simply drag the route on the map over to the National Forest icon near Boise and Google Maps will calculate a new route, taking me via US–95 S and increasing my trip length to 961 miles with a drive time of 15h 47min without traffic.
As you can see, Google Maps is great for planning a simple route between points A and B (with a side trip or two along the way), so long as you know where you're starting and where you intend to end up. In the latest update to Google Maps Preview, Google has also added back the ability to do multi-destination routing, though it's still a bit limited and leaves a bit to be desired for planning a cross country road trip.
Unfortunately, where Google Maps really falls short is in the area of exploration. If you know where you're starting and where you're going, Google Maps is great for getting directions. If you're also looking for coffee shops and yoga studios near your destination, Google Maps will do quite nicely. However, when you want to identify the most scenic route, find camp sites along the way, or explore hiking trails and topography near your destination, Google Maps falls woefully short. To fully explore your destination, you'll want to look to Google Earth.
The next post in this series will show you how to use Google Earth to visualize waypoints and find hiking, biking and nature trails on your cross country road trip, as well as how to catalog and save details of your route.
"Use Google Maps to search, find and route. Use Google Earth to explore, document and save,"
Jared McCaffree, LifeRemotely.com
Sadly, neither Google Maps nor Google Earth does an effective job of identifying speed limits, low clearances, steep road grades or other hazards of critical importance to those driving motorhomes or RVs across the country, so we can't rely entirely on these two tools for cross country road trip route planning or we're bound to find ourselves in a rather… unfortunate situation:
Throughout the posts in this series, I'll show you how to avoid low clearances,  steep grades and bad weather, and how to use other excellent free tools from AllStays, Google, Garmin, and Good Sam, plus a few free or inexpensive mobile apps to plot the best routes through all the stops on your list.
You'll learn how to save money on gas, find free campgrounds and inexpensive outdoor resorts, avoid dangerous roads and weather patterns, and take the most scenic routes without having to spend weeks planning or hundreds of dollars on expensive apps, maps and gear.
Have we missed anything?
Have a favorite tool or tip that we should add to our list?
Please let us know in the comments section below!
Next Step: Get There Cheaper, Faster and Safer
Today's post is the beginning of a brand new series at The Learning Banks called "How To Plan A Cross Country Road Trip."
Like this in-depth guide, I'm going to show you the exact strategies you can use to travel faster, easier, cheaper and safer, with just a few minutes and a few free or inexpensive tools.
Thanks for reading. We hope you enjoyed part 1 of How To Plan A Cross Country Road Trip and would love it if you would take a moment to leave us your comments below!
[wookle_buttons]