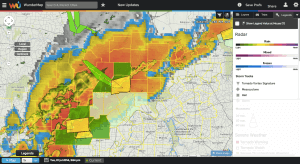 As Beth and I have cavorted around the country together over the past 7 months in our new home, we've learned a lot about road trip planning that we never considered before. What follows are the successive revelations that led us to the conclusion that one normally "plans" trips like these,  and that by doing so, we might find the journey to be simultaneously easier, cheaper and much less stressful.
If some of these revelations seem like common sense, hopefully one or two of them will either help guide or entertain you. For those less interested in entertainment value, I've compiled a separate guide on How To Plan A Cross Country Road Trip that might help you avoid such silliness altogether.
First Revelation: Freezing Weather
(RV's don't like freezing weather.)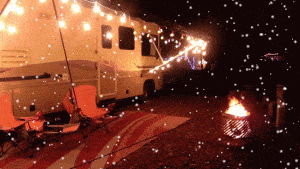 On our maiden voyage last November, we began to  learn just how important it can be to anticipate changes in weather. When the temperatures in Atlanta dropped below freezing and were forecast to stay that way for at least a week, we realized that we only had a few options:
Winterize – stop using the RV, empty tanks and hoses to prevent freezing and burst pipes.
Winter-proof – spend a bunch of money on skirts, heated pipe insulation, etc., or…
Mobilize –  move to a warmer climate!
We chose the latter, and with less than a day's worth of real planning, hopped on the road to
Florida's Space Coast
. Originally, our plan was to travel around central Florida, stopping at various county, state and privately owned RV parks for a couple of weeks each (with some occasional Florida beach camping thrown in for good measure), then make our way down to the Florida Keys for the months of January and February to do some diving.
Second Revelation: Poor Planning is Expensive
(Tropical destinations + high season road trip – reservations = very expensive!)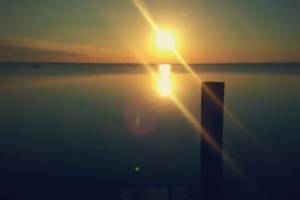 if we don't plan far enough in advance, RV life can become way more expensive than we thought it would be! As it turns out, we weren't the only ones with the bright idea to move south for the winter, and many of the parks that we intended to stay at were full. Those that weren't were only available for a day or two at a time, and at prime winter rates. As a result, we ended up living at three different RV parks during our five month sojourn in Florida:
Manatee Hammock, a nice, wooded county park on the river in Titusville;
Jetty Park, an oceanside RV park that was as close as we could get to Florida beach camping without a tent; and
Carver's Cove, one of several converted mobile home parks in the Space Coast area (and a real hidden gem, as it would prove to be).
In fact, we never actually made it to the Florida Keys due to an assortment of factors including limited availability,  higher than expected costs (available RV parks averaged about $1,000 per week) and poor time management (what, it's already spring? where did all our time go?!). As April flew by and May rapidly approached, we got back on the road towards Atlanta for a last visit before beginning our cross-country expedition in earnest. it only took a few weeks in Atlanta, Asheville, Nashville and Saint Louis for us to arrive at our third trip-planning revelation…
Third Revelation: Hot Weather
(In hot weather, it's awfully hard to cool a poorly insulated fiberglass tube.)
Having escaped Atlanta to avoid the freezing weather that would ultimately become Snowmageddon 2014, we now found ourselves on the other side of Georgia, making our way through this great nation's Southeast states; North Carolina, Tennessee and Missouri. Between Tennessee and Missouri, it quickly became clear to us that hot weather would indeed prove to be as much of a challenge as cold weather.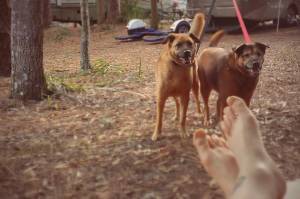 Because we have two dogs traveling with us, it's critical that we keep the inside of the RV comfortable while we're off doing "non-dog things." We would quickly learn that even with two roof-mounted A/C units, keeping the inside of the RV cooler than 80º can be quite a challenge when temperatures outside reach 95º F and above. Fortunately, we  were smart enough to have purchased a half-dozen automobile windshield reflectors to put in the RV windows.
As Saint Louis quickly taught us, however, even with both A/C units running full-bore, window reflectors in all the windows, curtains and mini-blinds closed and multiple fans running, if there are no shade trees (and we accidentally leave the water heater on all night), it can take hours to bring the ambient temperature back down just 5 or 6 degrees. So, after dinner and a quick ride to the top of the Arch, we mopped our sweaty brows and jetted off to Kansas City, where we came upon revelation four.
Fourth Revelation: Tornadoes
(Rock, Paper, Scissors, RV, Tornado.)

When we left Florida, we considered several possible routes for our road trip.  Initially, we thought we'd travel west along I–10, see the southern states, then drive up the California coast to the Pacific northwest. However, as our campground host at Carver's Cove pointed out, heading west on I–10 in May would inevitably put us in the hottest states during the hottest summer months, and even before we got cooked in Saint Louis, we knew this was a bad idea.
Our second plan was to leave Atlanta, head up the East coast towards New England, then cruise across our northern states, down the California coast, and back across I–10 during the fall/winter months. Unfortunately, when we factored in our need to be in Las Vegas for DEF CON in early August, it occurred to us that this would leave very little time to enjoy the states we were traveling through, nor enough to hang out for a week or two in excellent spots like the Badlands or Yellowstone National Park.
Thusly we arrived at our third and final plan, which was basically to drive from Atlanta directly to South Dakota to see the Badlands and Black Hills, then straight over to Yellowstone to spend as much time as we can before racing down to a hot desert hell Las Vegas. In doing so, we figured we'd take the most direct path possible, spending a day or few in each state we crossed along the way, enjoying at least one or two  attractions or culinary features, or both if possible.
We both knew that there was a belt somewhere along our nation's chubby midsection known as "tornado alley," though admittedly, we couldn't name all the states that comprised this mythic land of doom and destruction. While planning our trip from Nashville to Badlands National Park, however, we learned that the most direct path from point A to point B ran right through this legendary corridor. Yikes.
As we headed west from St. Louis to Kansas City in mid June, the looming threat of violent thunderstorms became more and more ominous. Arriving in Kansas City just ahead of a coming storm front, we managed to gorge ourselves on some world famous Kansas City BBQ just in time to get back on the road to head towards South Dakota.It was only then that we observed that all of the direct routes to SD from KC took us directly through or across said storm front.
We'd originally planned to head due north towards Sioux City, but having been the center of the storm only one day previous, the Missouri River had flooded the surrounding areas resulting in the closure of interstate 29 and the threat of more flooding all along the Missouri River basin. With this in mind, we tucked tail and bolted towards central Nebraska. In hindsight, this sounds pretty stupid when you consider that we were trying to avoid getting swept into the sky by a raging tornado, but hey, our options were pretty limited at this point.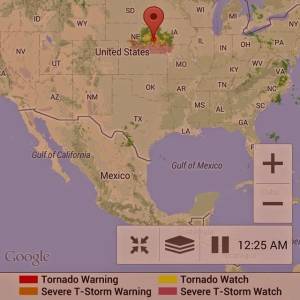 Through a combination of luck, skill and a few good online planning resources, we managed to make it from Kansas City, Missouri to Lincoln, Nebraska without getting wet, though the skies on the latter half of our journey looked more than a little gray. Indeed, once we settled into our campground in Lincoln, the skies went from gray to purple as one of the most spectacular lightning displays we'd ever witnessed took over the sky like Mother Nature's own Cirque du Soleil.
A quick glance at the national weather maps confirmed that the only storm front in all of North America had settled over Lincoln, Nebraska, and by all accounts, was centered directly over Camp-A-Way RV park.
Across the next 36 hours, we alternately scrutinized NOAA weather maps and hauled ass north, finally arriving in Interior, South Dakota with our RV intact. As I sit here writing this post from the Badlands of South Dakota (which are phenomenally beautiful in good weather, I might add), I can look back on our journey and grin at how obvious some of our "revelations" would have been to other people.
Lesson learned? Road trip? Plan!
Fortunately for us, it's through these revelations that we've learned to route better, plan better and all-around travel better. We've discovered and developed some pretty nifty tools and techniques for doing so along the way. Interested in learning how not to die of a heat stroke, tornado or dysentery while traveling the country in an RV? Check out my new road trip guide, "How Not to Die in a Tornado in Central Nebraska When You Haven't Even Made it to Yellowstone Yet."